an event center with historic elegance and modern day flair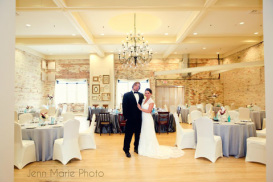 The Century Club was built by Muskegon's most prominent business leaders in 1891 for $30,000 at the time. The building at 356 W. Western Ave. has an ornate façade that has survived the decades. The building was restored in 2007.*

In its early days, the likes of Lumber Era leaders such as Charles Hackley, John Torrent and H.J. Hoyt formed the Muskegon Club – called at the time a "first-class social club" that would honor the city. It was renamed the Century Club in 1901.*

The Century Club Ballroom is the perfect place to host your special day—be it a wedding celebration, company parties, awards banquets or a birthday celebration. An event center like no other, the Century Club Ballroom has just the right space to accomodate a wedding party or an intimate soiree. Located Downtown Muskegon close to the lake, the Century Club Ballroom is an ideal location for a company Christmas party or an off-site business meeting.

The Century Club Ballroom staff has a level of personal service that is unsurpassed. Now, with our exclusive caterers, you won't find a banquet facility or reception hall more beautifully equipped to host your wedding, anniversary, or special event.

Call us today to schedule a free viewing. We can't wait to help you make your event spectacular.

---
356 W. Western Ave
Muskegon, MI 49440
(231) 329-2050

* Article from MLive Feb 19th, 2011
Muskegon wedding venue muskegon wedding reception lakeshore wedding grand haven wedding venue muskegon wedding hall wedding receptions century club muskegon weddings venues
Muskegon event center lakeshore corporate event center destination weddings wedding west michigan vintage wedding reception vintage venue muskegon lake view venue